Do you remember the books that kept you awake far into the night, a smuggled torch hovering as you turned 'just one more page' of 'just one more chapter'? The books that made you creatively trap the light from escaping under the crack of the door, draping a blanket carefully to avoid detection …Or was that just me?
One incredible reward of being a mother is the chance to tread that journey once again, with titles that sparked such delight the first time around, and to discover the new world of literature that awaits kids emerging into a dawning age.
I have been devouring books in every spare minute, feeling the language and quirky turns of phrase seep in – learning, appreciating, admiring. I store away structural ideas, marvel at plot twists and look out for clever descriptions. Watching my eldest soak up this love of literature is the best reward a lover of books could ever hope for and I'm savouring every step of this journey.
Here are a few of the stand-outs that have the potential to appeal both to middle graders (8-12) as well as the young at heart:
The Girl Who Drank The Moon (Kelly Barnhill)
This is a tale about a town called The Protectorate in which a baby is left as an offering to the Witch in the forest every year. The Witch, Xan, has no idea why the town has this strange custom and she rescues the babies and delivers them safely to the Free Cities on the other side of the forest. One year she accidentally feeds moonlight to the baby girl, so enmagicking her, and decides that she must raise the girl (Luna) as her own. It is an enchanting and wonderful story, filled with adventure, treachery and poetic realisations of the world. I absolutely loved every minute of it, a very deserving Newbery Medal winner.
Wonder (R.J Palacio)
Most will be familiar with the story of August Pullman due to the hit movie that was released recently. I loved this book. I really couldn't put it down and ended up finishing it off in 24 hours. The story of Auggie and his facial abnormalities was so beautifully woven to evoke such empathy and connection. The setting of the high school and the casting of the other students who interact with August is superbly done – particularly in avoiding setting them up as one-dimensional. Definitely a timeless favourite.
Hello, Universe (Erin Entrada Kelly)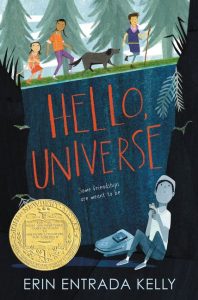 Making my way through the Newbery winners has been very rewarding. There is definitely a lot to like about this book which revolves around four characters whose lives intersect. I love Kaori Tanaka and found myself smiling to myself a lot over her hilarious way of viewing the world: 'Kaori was mildly surprised to get a text from one of her clients (her only client, truth be told) on the first day of summer, particularly at seven forty-five in the morning. But the night before, just as she was gliding to sleep, she'd had the vision of a hawk perched on a giant fence post. Only now she realized it must have been a vulture, not a hawk. And vulture started with V, just like Virgil's name. The connection couldn't have been clearer.' Virgil Salinas is an unlikely protagonist but likeable all the same. Valencia Somerset is also wonderfully crafted as is Virgil's quirky grandmother who delights in telling cautionary tales in which people are usually eaten. A great and enjoyable read.
The Extremely Inconvenient Adventures of Bronte Mettlestone (Jaclyn Moriarty)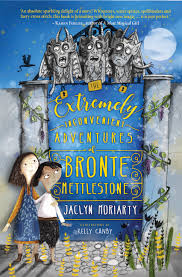 This is a book about a girl who discovers her parents have been killed by pirates. Not that she minds much as she has really never known them after they abruptly deposited her with Aunt Isabelle when she was a baby. Their Will specifies that Bronte must undergo an epic adventure alone, visiting all of her ten other aunts. If she fails to follow even a line of their (rather detailed) instructions, destruction will befall her hometown. I found this to be a charming, unpredictable and interesting book. I laughed and smiled the whole way through. The elaborate journey that Bronte takes is filled with surprises, coincidences and delights and it is all woven together with such a deft touch. A perfect title for boys, girls (and adults!) alike.
Navigating Early (Clare Vanderpool)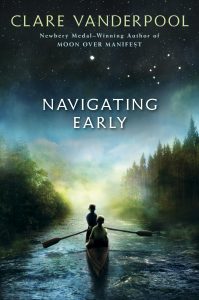 This is a story about a boy called Jack who is suddenly uprooted after his mother's death and placed in a boarding school where he meets a strange boy named Early Auden. The two form an unlikely friendship and set off on an adventure together. Vanderpool is an exceptional storyteller and I loved this book and the way she wove through threads of different tales. Early Auden is a compelling and lovable character and I was so engrossed in the final chapters of the book that I did not even register that the doctor had called our names. Twice. A definite must read.
Flora & Ulysses: The Illuminated Adventures (Kate DiCamillo)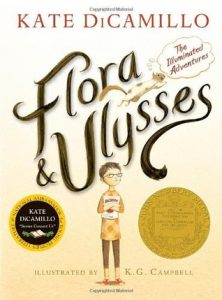 A squirrel is reborn into a superhero after an unfortunate encounter with a vacuum cleaner. This is the unlikely tale of Flora, his champion and protector and Ulysses, the squirrel who can fly and write (average) poetry (and William Spiver who is oddly endearing). Also a Newbery Medal winner, the tale is quirky, fun and enjoyable with great comic-like illustrations throughout.
The Mapmaker Chronicles (A.L. Tait)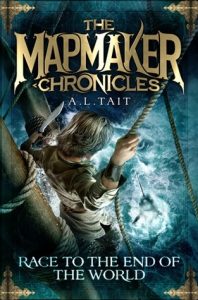 This four book series is written by a very talented Australian author. It revolves around the story of Quinn Freeman, a fourteen year old reluctant hero who is enlisted in the King's Quest to map the edge of the world. It is filled with adventure, sea-battles, kidnapping, piracy, volcanoes and more. The plot is well-crafted, the pace moves along well and the characters are easy to root for. Probably less of a shoe-in for the adult reader, but I enjoyed reading it in the knowledge that the kids will definitely love the series one day.
What books do you love that were originally written for children? The Harry Potter series is, of course, another great example of how a great story can transcend the target audience and become a much loved classic for all. A Wrinkle In Time is another honourable mention – just so many to choose from! I'm always looking for great books so let me know your tips!